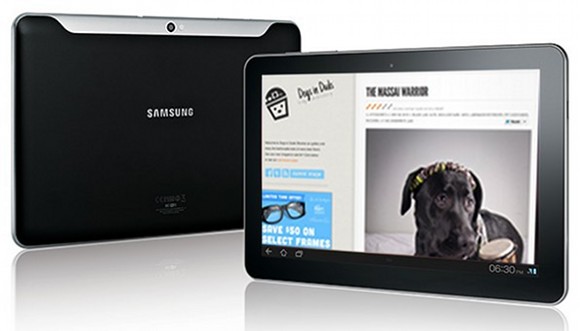 We are in the mood for a change. Just as the seasons change so do the themes you see on Dogs in Duds. We want to feature your dogs on our website! So we challenge you to dig deep into your photo collection or venture out with your pooch and your camera and participate in our Dogs In Duds Photo Contest by submitting your, fun summertime shots of your dressed up doggies today.
All photo submissions will appear on Dogs in Duds throughout the summer with the winner being announced on Labor Day. If your photo is selected as our top winner, your photo will be featured as our timeline header photo on our Facebook page and you will receive a 10.1" Samsung Galaxy Tablet!! This device releases in June and we are all very excited!
Remember, you can't win if you don't enter, so submit your shots of your dressed up doggie today by filling out our submission form or emailing your pics to [email protected].
*** Photos must be of dogs dressed up in summer outfits. (Naked dogs will not be eligible)
How to Enter
Submit photos of your dog dressed up in some way via our submission form or by email.
Choose your file (jpg, png, gif, tiff). Photos must be original and a minimum of 1MB file size. Low quality photos will not be eligible.
For your photo to qualify you must provide your name, e-mail, your dog's name and breed and a brief description of what your dog is doing/wearing in the photograph.
Photos must be of dogs dressed up in summer outfits and doing a summer activity like hiking, swimming, being outside, etc. (Naked dogs will not be eligible)
You can submit as many photos as you like, the more the merrier.
Submissions must be received by Friday, August 31, 2012 at midnight EST.
The winner will be announced on Labor Day, Monday, September 3, 2012 and will receive a brand new unopened 10″ Samsung Galaxy tablet.
Images will be judged on originality, technical and artistic merit, composition and overall impact.
Questions: All inquiries about contest rules can be emailed to us.
As always, naked dogs are not accepted or posted on Dogs In Duds. Pictures will not be considered unless your dog is dressed up in some way.
The Galaxy Tab 2 10.1 runs Android OS 4.0 Ice Cream Sandwich on a dual core TI OMAP CPU. The tablet has a 1280 x 800 capacitive display and 16 gigs of storage. It has a microSD card slot for storage expansion, a front VGA camera and rear 5.0 megapixel camera. Also on board are WiFi 802.11n, Bluetooth and a GPS. The tab is perfect for taking pictures of dogs and sharing them with your friends! We are sure you will love it!