Summer is finally here! Not only is it an excellent time for us to get out, but it's also the best season for getting our dogs outside. Let's show off our dogs in their summer duds and, since everyone likes to win stuff, let's do a summer photo contest!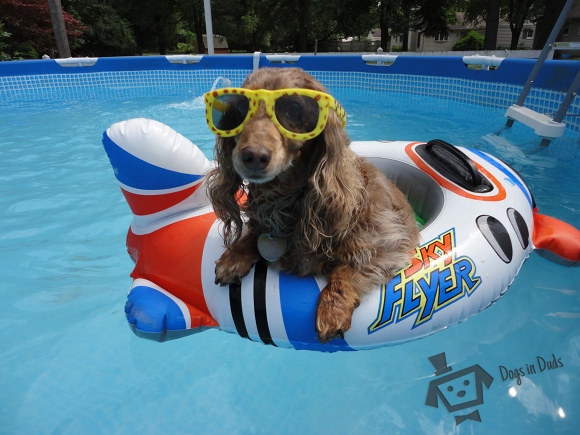 As always, we want to feature your dogs on our website! So we challenge you to dig deep into your photo collection or venture out for a photo shoot with your pooch*. Participate in our Summer Contest today by sending us your pictures! All photo submissions that appear on Dogs in Duds until Labor Day will be eligible.
This contest will be judged by you, our loyal fans. The dog picture that has the most combined likes, shares, pins, stumbles and tweets by September 15, 2013 will win a $150 Wal-Mart gift card.
Remember, you can't win if you don't enter, so submit your doggie photos today by filling out our submission form or emailing your pics to [email protected].
* Photos must be of dogs dressed up in clothing. (Naked dogs will not be eligible)
More details after the jump:
How to Enter
Submit photos of your dog dressed up via our submission form or by email.
Choose your file (jpg, png, gif). Photos must be original and a minimum of 1MB file size. Low quality photos will not be eligible.
For your photo to qualify you must provide your name, e-mail, your dog's name and breed, and a brief description of what your dog is wearing in the photograph.
Photos must be of dogs dressed up in costumes, clothing or some other creative way (Naked dogs will not be eligible)
You can submit as many photos as you like, the more the merrier.
Submissions must be received by Monday September 2, 2013 at midnight EST.
The winner will be announced on Sunday September 15, 2013.
This is a popularity contest so like, share, pin, stumble and tweet from our website (icons below the pictures) to win! Also, don't forget to encourage your friends and family to vote for your dog.
Any participant caught cheating will be disqualified (this includes, but is not limited to: photos of dogs which were stolen from other websites, creating/using fake social media accounts to vote, etc.)
Questions: All inquiries about contest rules can be emailed to us.